SU6 - MULTI MAST CANTILEVER UMBRELLA
SU6 MULTI CANTILEVER UMBRELLA – SHADOWSPEC'S PRESTIGOUS FLAGSHIP MODEL
This world leading cantilever umbrella system has the ability to mount either 1, 2, 3 or 4 umbrellas off just one mast.
The patented, simplistic sliding mechanism together with the use of modern gas-strut technology, allows each individual umbrella to be opened and closed independent of the others, quickly and effortlessly.
No crank handle winders.... No cables & pulleys.... just open or closed in seconds with one easy movement.
View the SU6 cantilever umbrella in action – click here to watch our short video.

included Accessories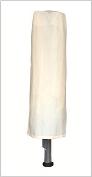 Protection Cover
Every SU6 cantilever umbrella is supplied with a free Protection Cover.
This fits over the umbrella when closed, ensuring the umbrella is protected from the elements when not in use. This helps protect your investment and means your umbrella is always looking its best when open.
key features - su6 off-set umbrella
The SU6's prominent unique feature above all else is the ability to mount up to 4 umbrellas, individually off just one mast.
It does however come with many other fantastic features, some of which are listed below:
Umbrella configurations offering up to 407 sq. ft covered area
Constructed with only the finest quality materials including marine-grade stainless steel and brass components and powder-coated finish Aluminium frame and mast
Choice of square of octagonal umbrellas
Utilises world-leading gas-strut technology for fast, simple deployment
Patented easy sliding system for effortless opening and closing of the umbrella
Backed with extensive warranties including a 5 year canopy warranty.
SU6 Mast Profile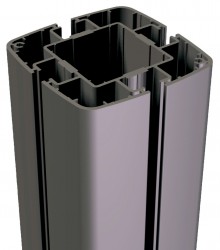 Super heavy-duty aluminium mast that allows up to 4 umbrellas to be mounted at one time
Aluminium Hub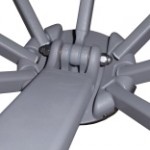 The core of the SU6/7 umbrella strength is the robust aluminium hub.
Engineered to perfection and assembled with durable brass bushes and neoprene washers for added durability, this hub is just one example of the attention given to every design detail that allows the SU6 cantilever umbrella to remain unsurpassed in quality, performance and durability.
Easy-Release System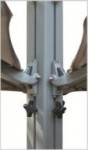 The patented 'single-movement' sliding system is what allows the SU6 Umbrella to be opened and closed so efficiently and effortlessly.
View the SU6 Product Video to see for yourself the ease with which it is deployed.


Gas Strut Technology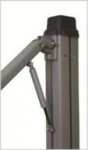 The addition of the European manufactured gas struts, one per individual umbrella means the weight of the umbrella while raising and lowering is extremely well balanced and makes the process almost effortless. Where the umbrella is to be located in a coastal or salt spray environment then an upgrade to the optional stainless steel gas strut version is recommended.
installation fixings - su6
To ensure maximum versatility, four different fixings options are offered for the SU6 cantilever umbrella:
Surface Plate – Recommended for existing concrete surfaces and timber decks
In-Ground Anchor - Requires a concrete footing
Wall Clamps - For securing the umbrella against a wall or post, (only applicable for the SU6 Square Uno & Duo configurations)
Portable Base (with optional swivel wheels) - For situations where the umbrella needs to be moved around and/or cannot be fixed permanently to the ground

If you need help with slecting an SU6 fixing or need more information
product video - su6
Witness the ease with which the SU6 umbrella can be operated.
size and configuration
The SU6 can be supplied using three umbrella sizes:
8'2" SQUARE
9'10" SQUARE
11'6" diam. OCTAGON
The outstanding feature of this umbrella design is the ability to mount up to four individual umbrellas on just the one mast.
Each of the four umbrellas is operated independent of the others allowing you to choose the amount of area you wish to cover at any given time.
It also offers the possibility to start with just a single (Uno) or double (Duo) umbrella with the option of adding a third or a forth umbrella in the future to increase it to a Trio or Quattro.
A summary of the various configurations that are possible is shown below: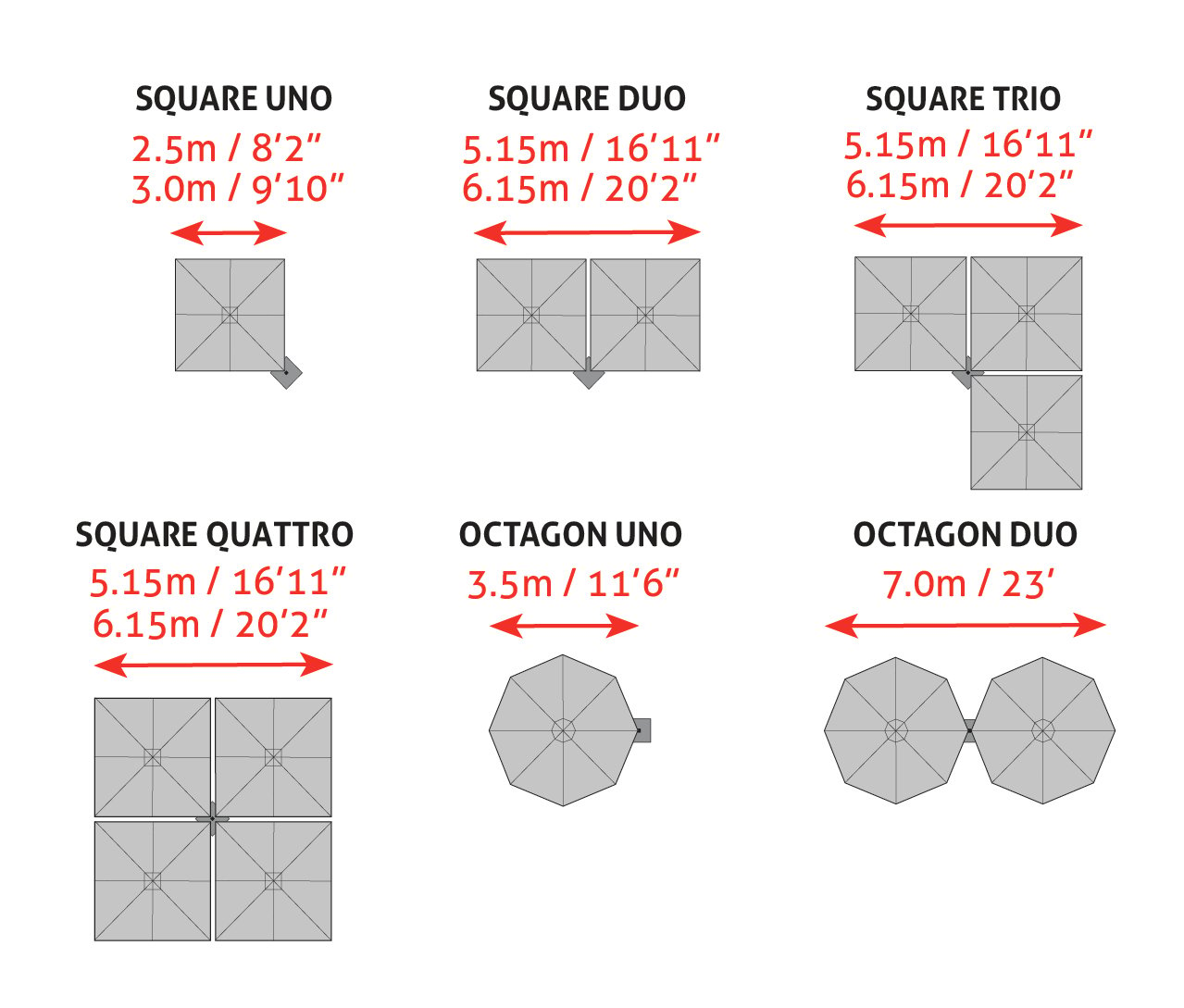 wind tunnel testing - su6
The SU6 Cantilever Umbrella has been engineered and tested when fully open to wind speeds of 25mph and is certified accordingly.
fabric - su6
The fabric used for the SU6 Canopy is the world leading, Premium DICKSON Acrylic fabric.
This high quality, internationally renowned fabric is 100% solution dyed, backed with a 5 year warranty.
Weight : 10.2oz/m2
Colourfastness: 7-8/8
Waterproof rating: >300mm water column
Maintenance: All fabrics can be washed and replaced


Dickson Acrylic is recommended by the Skin Cancer foundation for maximum sun protection, along with suggested regular use of sunscreen.

The below label certifies that the fabrics do not contain any known toxic substances and nor do they present any known skin, health or environmental hazards (OEKOTEX 100)
colours - SU6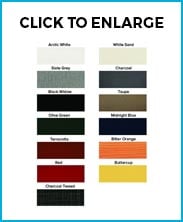 With the SU6 Cantilever umbrella you have 13 popular colours to choose from.
(Note custom colours are also available but are likely to incur a surcharge)
Shade UV Rating: UPF 50+
Every day, more emphasis is being applied to encourage people to protect themselves from the UV rays of the sun.
The fabric colours offered by Shadowspec for the SU6 canopies filter very close to 100% of the sun's UV rays. Only the colours White Sand and Arctic White filter less, but still rated as 'Excellent' filtering in excess of 95% UV rays.
optional accessories
A variety of Optional accessories are available for the SU6 cantilever umbrella including:
LED Lighting – (incorporated within the frame)
Rain Gutters – these allow the adjoining umbrellas within a square configuration to be inter-connected, thus maximising the weatherproof area. These rain gutters are easily attached and/or removed as required.
to find out more about accessories for the SU6.
Warranties - SU6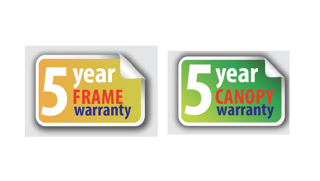 At Shadowspec we realise that whatever model you purchase, it is an investment. On-going customer satisfaction is our top priority.
We believe in the quality and design of our products and back them accordingly. They have been proven in the market place for many years and are trusted around the world.
For the SU6, we offer an extensive warranty including a 5 year frame and canopy warranty*.
Customer Spotlight
Leo, from South Carolina, is so delighted with his Shadowspec SU6 umbrellas he filmed videos showing how he's used them in his outdoor space. Thanks Leo, we're glad you enjoy them.